The purpose of this article is to highlight stylistic markers of a given artist, to aid in identification of pictures of unknown origin.
Round, almost ball-like body
Very thin, pointed tongue
Wetness/drool/sweat/tears drawn as hard, single pixel lines.
Eyes are black circles with highlights; no sclera lines.
Omanjuuaki
Edit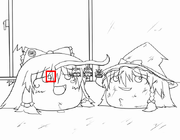 Eyes typically drawn with an upward tick toward the forehead (as highlighted).
Pupils, when filled, are filled with solid black except for a single highlight.
Kiriraitaa
Edit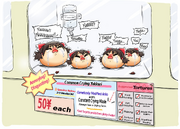 Gradients very often used in coloured works
Crying eyes are always slanted or slit like, multiple tear drops
Open eyes are large, round, solid or hashed black irises with large and smaller highlights; usually shows a thin sclera.
"Solid round" manjuu shape
In singluar images or within a series, artist often illustrates at least yukkuri (typically a Ko-Reimu) peeing (as a result of fear or anger).
YohakuAki
Edit
Sketchy, pixel-art/pencil feel
Eyes practically never coloured, mostly empty
Crying usually a constant stream, not interrupted drops
Shading hash is parallel slanted lines.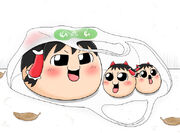 Blobby shape, or a worm like shape, especially when moving
Mad tongue
Highly exaggerated facial expressions
Two lines extending from the edges of the mouth; bottom half of the mouth is much more prominent than the upper part.
Pupils solid black with one highlight.
Art style is identical to that of Gesuaki. They may be the same person.
Ad blocker interference detected!
Wikia is a free-to-use site that makes money from advertising. We have a modified experience for viewers using ad blockers

Wikia is not accessible if you've made further modifications. Remove the custom ad blocker rule(s) and the page will load as expected.