Yukkuri Benben

Nickname(s)

Benyuben

Based on

Accessories

Biwa, Small Flower Broach

Filling

Egg Spahgetti

Bodied?

No

Special Abilities

New Yukkuri, Sometimes has a music instrument chained to it.

Rarity

Rare
A rather brand-new species of yukkuri. As of the moment, nothing is quite known about them except they are seen with musical instruments chained to their bodies. A few specimens have been seen using weird prehensile hair-tendrils, although this has not yet been confirmed.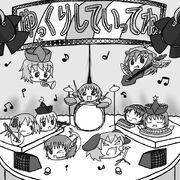 They enjoy playing music and forming bands with Yatsuhashi and Prismriver-type yukkuri. They are seen as a polite and good-nature yukkuri, with nothing out of the ordinary about them. They are known, however, to repeat their names in rapid succession at either random times or at the end of practically every sentence.
Relationship with other yukkuri
Edit
They like Yatsuhashi Yukkuris. They also have taken a liking to Yukkuri Merlin along with Yukkuri Raiko.
Ad blocker interference detected!
Wikia is a free-to-use site that makes money from advertising. We have a modified experience for viewers using ad blockers

Wikia is not accessible if you've made further modifications. Remove the custom ad blocker rule(s) and the page will load as expected.