Yukkuri Kasen

Nickname(s)

Hermitukkuri, Nagukkuri

Based on

Accessories

Twin headbuns

Filling

Sakura mochi

Bodied?

No

Special Abilities

Claimed martial arts expert

Rarity

Rare
A rather rare, and naggy, yukkuri.
A relatively new, although rare, yukkuri that enjoys bearing new information upon other yukkuri. However, they come off as preachy and self-critical, somewhat like Yukkuri Sikieiki. Despite this, these yukkuri are rather polite.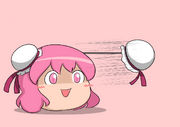 They claim they are martial arts expert, and it is true to an extent. They're very powerful for a yukkuri, on par with Yukkuri Meiling. However, they are still weak to other more powerful yukkuri.
Relationship with other yukkuri
Edit
These yukkuri seem to follow Yukkuri Reimus, constantly telling them the errors of their ways along with ways to change their lives for the better. Reimus generally ignore them, though. These yukkuri appear to be rivals to Seigas.
Ad blocker interference detected!
Wikia is a free-to-use site that makes money from advertising. We have a modified experience for viewers using ad blockers

Wikia is not accessible if you've made further modifications. Remove the custom ad blocker rule(s) and the page will load as expected.