Yukkuri Kyouko

Nickname(s)

???

Based on

Accessories

Ears, broom, sometimes sunglasses

Filling

Dust

Bodied?

Yes

Special Abilities

Loud voice

Rarity

Rare
A loud, joyful yukkuri.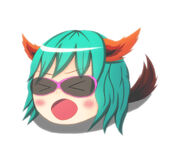 A joyful yukkuri known for cleaning and it's loud, cheerful voice. A Kyouko will happily announce anything it's doing, regardless of how mundane. Kyoukos are also known for repeating anything they hear, which can annoy most yukkuri but amuse owners. However, Kyoukos will at times refuse to repeat what it heard, at which point it will clamp its jaws shut and puff its cheeks up in a similar fashion to puff-puff. They at times do get fustrated with things, like all yukkuri, and in such cases will mumble sayings or words.
Kyoukos are well known for singing songs, much like Mystias, though the songs are rather loud and not very soothing. They are also known for cleaning, making them useful in artifical clans. 
Relationship
Edit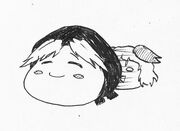 Kyoukos are very good friends to Mystias, seeing them as mates and "band mates". Other yukkuri generally avoid Kyoukos due to their odd behaviors. Kyoukos are at times seen with Mamizous, seeing them as advice givers. As of recent, they have been observed follow Byakuren, joining their "temples".
Sakuyas are seen enjoying their presence, due to their cleaning abilities 
Sweepin' Easy! Easy! Easy!
Ad blocker interference detected!
Wikia is a free-to-use site that makes money from advertising. We have a modified experience for viewers using ad blockers

Wikia is not accessible if you've made further modifications. Remove the custom ad blocker rule(s) and the page will load as expected.