Yukkuri Raiko

Nickname(s)

Drumkuri

Based on

Accessories

Drums

Filling

Golden Delicious Type Apples

Bodied?

No

Special Abilities

Can play the drums

Rarity

Rare
A laid-back, obnoxious, and music-loving yukkuri.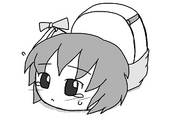 A loud yukkuri (much like Mystia and other music loving yukkuri) known for being generally obnoxious and noisy. These yukkuri love drums and if they can't find a yukkuri-sized drum sets they will find anything that can act like a drum (such as bottle caps or small bottles).
Laid-back, these yukkuri hate work more than most other yukkuri and would rather spend all day playing their drums and singing loudly.
Relationship with other Yukkuri
Edit
These yukkuri are fond of Yukkuri Yatsunashı and Yukkuri Benben, though have not seen mating with these types. They will usually form "bands" (group of music loving yukkuri), but most yukkuri don't like their lazy attitudes of obnoxious attitudes.
Ad blocker interference detected!
Wikia is a free-to-use site that makes money from advertising. We have a modified experience for viewers using ad blockers

Wikia is not accessible if you've made further modifications. Remove the custom ad blocker rule(s) and the page will load as expected.